One Team. One Family. One Legacy.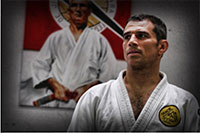 Thank you Master Royler Gracie!!!


for your seminar and awarding our two new Black Belts, Jordan Silverman and Jim Shipman

Gracie Humaitá Austin, central Texas' premier school for Gracie/Brazilian Jiu-Jitsu for all levels offers classes 7 days a week taught by former World Champion Paulo Coelho Brandão!
Our Location: 1701 West Ben White in the Southwood Shopping Center, Austin, TX 78704 (map)
A great promo video cut by our very own Shama Ko, of MEAN STREAK PHOTOGRAPHY.